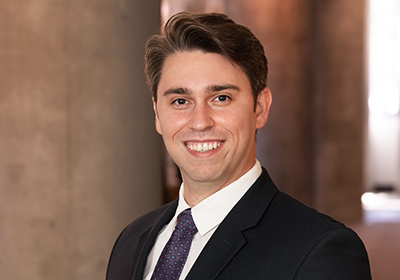 Timothy P. O'Connor
Associate
toconnor@specialdistrictlaw.com
Tim joined McGeady Becher as a special district attorney in 2021. He is a graduate of the University of Wisconsin Law School, where his studies focused on real estate law. Prior to joining the firm, Timothy represented a wide variety of clients in various real estate matters involving land use, zoning, conveyancing, and title curative.
Of his special district practice, Timothy says: "Colorado is such an exciting state from a development and growth perspective. I am thrilled to be a part of a team that is actively building communities statewide."
Pro Bono Work & Community Involvement
Big Brothers, Big Sisters, Mentor
Volunteer Income Tax Assistance Program, Volunteer
Legal Assistance for Disaster Relief, Volunteer
Legal Action of Wisconsin: Housing Advice Clinic and Bankruptcy Clinic, Volunteer
Wisconsin Wills for Heroes, Volunteer
Get to Know Tim Better…
When he is not practicing law, Tim enjoys playing baseball with his men's league team, traveling, and spending quality time with friends and family.