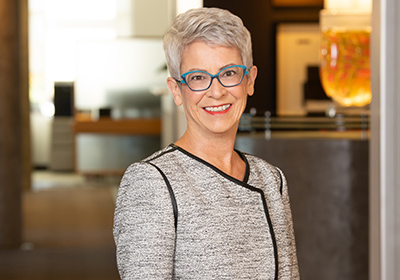 MaryAnn M. McGeady
Shareholder
mmcgeady@specialdistrictlaw.com
MaryAnn is a founding member of McGeady Becher, which was established in 1988. For over 30 years, she has played a leading role in some of the largest and most complex real estate developments in the Front Range and throughout the state of Colorado.
MaryAnn focuses on providing prompt, responsive service, characterized by a level of creativity and commitment unique to her experience, abilities, and energy level.
Of her special district practice, MaryAnn says: "Colorado has a unique structure for special districts and the financing of the installation, operations and maintenance of public improvements. I enjoy helping our clients understand how districts work and how we can create districts to meet the unique needs of the communities they create. We focus on educating our clients, identifying options and developing governance structures that will work well in the near and long term. I see my role as both lawyer and consultant.
Clients tell me that they appreciate our creativity, attention to detail, and responsiveness. In this business, time is money. Communicating quickly and effectively is an important part of our approach to client representation."
MaryAnn is frequently recognized as an expert on the topics of special district law and municipal finance and has presented on this topic before County Commissioners and City Councils throughout the State and at conferences of the Government Finance Officers Association, the Special District Association and Colorado Municipal League.  She has also been very involved in testifying before the Senate and House Committees on legislation affecting special districts over the past four decades.
Notable Publications & Presentations
Tale of 2 projects: Metro districts fund critical infrastructure – Part One, Colorado Real Estate Journal (May 5th – May 18th, 2021), co-authored with Courtney L. Diguardi
Tale of 2 projects: Metro districts fund critical infrastructure – Part Two, Colorado Real Estate Journal (May 19th – June 1st, 2021), co-authored with Courtney L. Diguardi
Co-Presenter on "Overview, Powers and Governance of Special Districts" at Colorado County Attorneys Association 2014 Summer Seminar (June 2014)
Moderator and Co-Presenter on "Economic Development with Special Districts" to Jefferson County (January 2014)
Co-Presenter on "Public Finance 101" for NAIOP Young Professionals Group (March 5, 2013)
Lecturer on "Public Infrastructure Financing" for MBA/Class on Sustainable Real Estate Development at the University of Colorado's Real Estate Center, Leeds School of Business (April 2011)
Co-Presenter on "The Most Common Special Districts and How They Impact Municipal Government" for the Colorado Municipal League Annual Conference (June 2009)
Presenter on "Special Districts" for the City of Aurora Developer Advisory Group (March 2007)
Presenter on "Economic Development of Special Districts" for the CGFOA/CMA Annual Conference (November 2006)
Co-Presenter on "Streamlining the District Organization Process: The Aurora Model" at the Rocky Mountain Land Use Institute Annual Conference (2005)­­
Moderator of "The Use of Special Districts as a Financing Tool to Accomplish Major Regional Improvements" at the Rocky Mountain Land Use Institute Annual Conference (2004)­­
Community Involvement
Wills for Heroes (2023)
ChristAid International, Inc. fund raiser for various building projects (2012 – to present)
Harvest of Hope, Co-Founder and Corporate Sponsorship Co-Chair (2001-2013)
Tutor at Westside Center S.A.Y. Yes Program (2011)
Sawmill Mission, Navajo Nation, Vacation Bible School (Director 2003-2007)
Rocky Mountain Real Estate NAIOP Challenge Volunteer