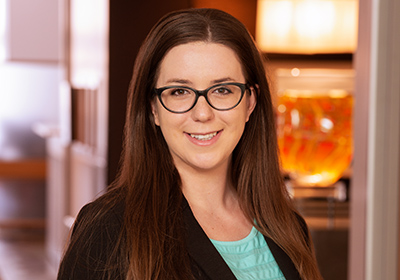 Samantha T.F. Lillehof
Associate
slillehoff@specialdistrictlaw.com
Samantha joined McGeady Becher as a special district attorney in 2018. Prior to joining the firm, she clerked for the Honorable Terry Fox in the Colorado Court of Appeals. As a judicial law clerk, Samantha performed extensive legal research and writing on complex civil and criminal issues, including those involving special districts.
While in law school, Samantha completed judicial internships in the Colorado Court of Appeals with the Honorable Richard Gabriel, and in the U.S. District Court, Denver, CO, with the Honorable Michael E. Hegarty.
Of her special district practice, Samantha says: "I am grateful to participate in shaping Colorado communities for the better by collaborating with public and private entities and individuals to overcome the unique challenges encountered in forming and operating special districts."
Prior to her legal career, Samantha taught literacy to third grade students in Montbello, CO, and also served as an intern for Colorado State Senator Keith King and for the Colorado Senate Minority Office.
Notable Publications
2018 National Women's History Month: 1891,40 The Advocate No. 3 (2018)
CBA-CLE Causes of Action in Colorado Treatise (Nuisance Chapter Update, forthcoming 2018)
Women in the Bar and on the Bench: Defying the Odds, 40 The Advocate No. 2 (2018)
Little Sisters of the Poor Home for the Aged v. Sebelius: Ramifications for Church Plans and Religious Non-profits, 87 U. Colo. L Rev. 581 (2016)
Awards
George Holley Young Lawyer Award, First Judicial District Bar Association
Excellence in Clinical Education Award, University of Colorado School of Law
Community Involvement
We the People, Coach
Our Courts, Presenter
Get to Know Samantha Better…
When she is not practicing law, Samantha enjoys gardening, yoga, and dancing.