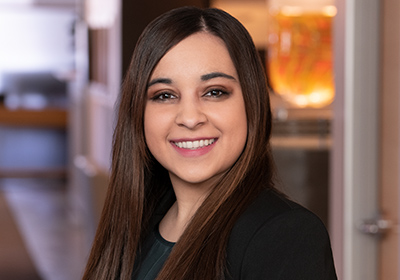 Courtney L. Diguardi
Associate
cdiguardi@specialdistrictlaw.com
Courtney joined McGeady Becher as a special district attorney in 2020. She is a graduate of the Sturm College of Law at the University of Denver, where she served as both Editor-in-Chief of a law journal and as a teaching assistant. Throughout law school, Courtney worked as a law clerk for a local firm, gaining extensive experience in drafting real estate, contract, and litigation documents .
Of her special district practice, Courtney says: "Being a Colorado native, I am excited to work in an industry that is actively shaping Colorado for a bright and prosperous future, with a firm that is unmatched in the services it provides in the realm of special districts."
Prior to attending law school, Courtney served as a Federal Agent Intern for the Naval Criminal Investigative Service.
Community Involvement
Colorado Attorneys for the Arts, Volunteer
Get to Know Courtney Better…
When she is not practicing law, Courtney enjoys watching the Colorado Avalanche, going to a variety of concerts, kickboxing and spending time with family and friends.